St. Patrick's Day Sale!
EVERYTHING'S FREE!
Happy St. Patrick's Day week! Okay, so maybe it's not exactly a gift-giving holiday (at least not in my family), but do you really need an excuse to download a free book? I don't. 🙂
I've teamed up with some fantastic authors to bring you 37 clean books for FREE! These books span multiple genres, which means there should be something for everyone.
Load up your Kindles! These prices won't last for long.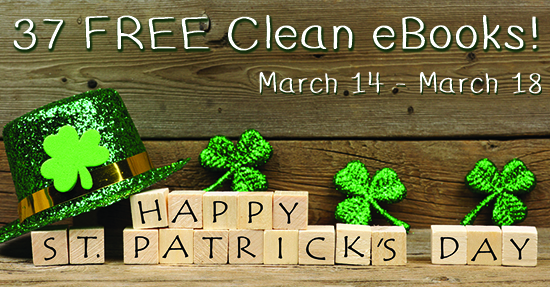 For the purposes of this sale, "clean" means no on-page sex, minimal violence, and minimal mild language. If these books were movies, they'd be rated PG.
Disclaimer: I have not personally read everything listed in this sale. The authors assure me their books meet the above criteria and I've taken them at their word. The individual authors are responsible for the content of their story. Most of these books are free on Amazon, but some of them may require an email address to download. Make sure you double check that the price is actually free before downloading.
Felicity loves to read tales of adventure and danger in her tiny, sparrow-sized books, but never dreams that she'll have an adventure of her own. At least not until the day an unexpected stranger comes to her tree with an unusual request...
When Jessica Mobley's husband abandons her and flies off to Mexico to meet another woman, she unravels his porn addiction and her financial ruin. Intercession is a love story, loaded with friendship, drama, and inspiration.